NewsCheck out the replays of our webinars about creating a mobile campus for your school!
NEOMA Business School
MOBILE COMMUNICATION REDEFINED
Discover how NEOMA Business School uses its app to communicate effectively with its students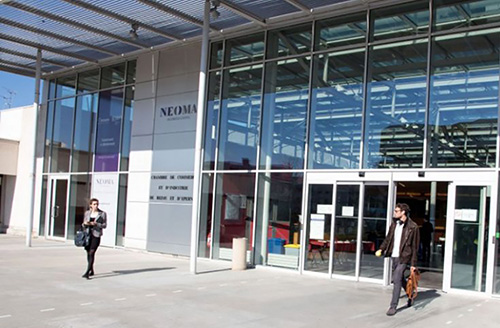 BRINGING TOGETHER: 8.000 STUDENTS, 3 CAMPUSES
NEOMA Business School welcomes eight thousand students annually across three campuses in France. The School was looking for an effective way to communicate with them all. Deploying a mobile app soon appeared as the most appropriate way to do it.
« In spite of its size, NEOMA Business School strive to care about all its students. It is important for us to remain available with each and every one of them. Mobile communication, more efficient and less formal than email, serves this need. » - Delphine MANCEAU, Dean - NEOMA Business School
LEVERAGING A MOBILE APP TO ENGAGE WITH STUDENTS
Communication plan to promote the app launch
This enabled a 90% adoption by our students within 6 weeks
Deployment of the messaging service
Intended to create campus-specific push messages campaigns to all our mobile app users
Activation of automatic notifications
To instantaneously notify students about classroom changes and events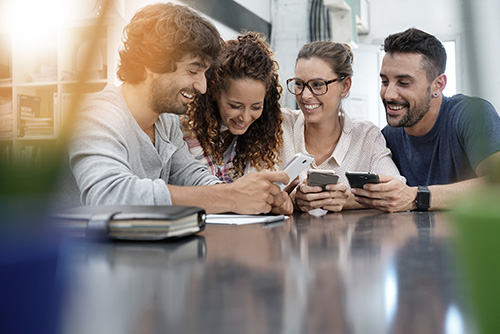 Instant communication
NEOMA is now able to instantly communicate to its students, wherever they are
Appropriate communication channels
E-mailings have been reduced for the benefit of push notifications
Information effectiveness
Students are alerted in real-time on timetabling-related issues and events
10 push notifications

Sent every month

+ 75 %

Average notification open rate

90%

Percentage of NOEMA students using the app on week days
«The collaboration between AppScho and NEOMA IT Department has been really successful. Our app's Push notification system was swiftly adopted internally by our Communication Department, thanks to its ease of use and the fact it feels specifically designed for higher education needs. We were looking for an off-the-shelf solution that would allow an easy implementation with regular updates and improvements. These criteria were met with AppScho which gave us the confidence required to select them as our mobile provider. »
MAKE THE MOVE TO MOBILE CAMPUS
This website uses cookies. You can choose which one you wish to enable. Please note that your preferences will be stored in a cookie for up to 13 months.
You can change your mind anytime in the footer.